Are you in the habit of checking a restaurant's reviews before going out to have dinner? Who isn't, you'd ask?
And it makes sense too. With a plethora of options in front of us, we are always in search of 'social proof' – we tend to look to others for guidance.
The social sector is not different when it comes to social proof. While people are generally altruistic and want to help others in need, positive, unbiased reviews or testimonials only motivate them to donate more.
Why are testimonials considered so powerful and potent?
In the last few decades, crowdfunding platforms have been working closely with multiple NGOs to give them a much-needed forum. Not only have more and more people become aware of these organisations working at the grassroots level but they have also got a lot of donations for the causes they have been passionate about.
While there are multiple pros of fundraising through a crowdfunding platform, there is always the clamour about transparency and the worry that the money is not being used for the right purpose.
However, transparency is a core value of Donatekart, and not only will you know exactly what products have been procured but also our regular website and WhatsApp updates will keep you posted on when they have been delivered and how they have been used by the NGOs.
To add to all of this, a donor testimonial comes really handy. They provide trust and authenticity and help in building brand value. 
While, testimonials can each be one small, well-written story it is absolutely essential for them to be authentic.
Our Customer Support team works tirelessly to ensure that each testimony includes the donor's name and other pertinent information such as job title, age, etc. With the help of targeted questions, we are able to get insightful and motivating testimonials from a wide variety of people involved with us, including volunteers, donors, beneficiaries, and social workers.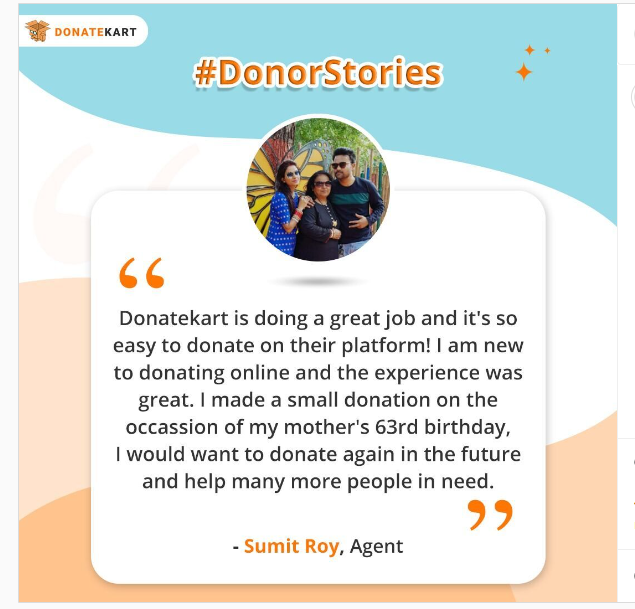 It is because of the trust that people like Sumit show in us, we find our daily inspiration to do good and help many more in need.
If you've donated on our platform or know someone who has done the same and want to share your experience with us, please email us at info@donatekart.com.